GLEBUS REAL ESTATE
In The Adirondacks
Schroon Lake-Starry Night Cabins & Motel & Home
6 Units of which are 3 Winterized Cottages
Popular-Well Established Over 50 years
Walk to Beach-Boat Launch and Shops & Stores
Owner Financing! Was $249,000 Reduced $235,000
| | |
| --- | --- |
| Sale Price | $235,000 |
| Assumable Mortgage | No |
| How Long Established | 80 Years |
| Under Current Owner | 12 |
| Town | Schroon Lake |
| Address | 35-37 Fowler Ave |
| Motel Units | 2 |
| Cottages | 3 |
| Home | Yes-4 bedrooms |
| Square Footage | 2,023 |
| Bedrooms | 5 (2 down 3 Upstairs) |
| Baths | 3 |
| Gross Sales | $54,000 |
| Room Rates | See Below |
| Parking | Ample Parking |
| Acreage | 0.50 |
| Water Supply | Town |
| Septic | Town |
| School Tax | $1,020.34 |
| County Tax | $1,015.70 |
| Listing No. | G-24 |
| MLS No. | 160285 |
Special Features: Two Story 5 bedroom Home, 3 baths, fireplace,, knotty pine interior, spacious living area, harrdwood floors, attached garage. Starry Night formerly known as Rawlins Motel & Cabins feature basic rooms which provide simple yet comfortable quarters. They are a one-room combined living & sleeping area with a private bath. Each has a refrigerator, coffee-maker and A/C and heat. Pricing is based on lodging for two (2), however, more can be accommodated depending on the room's normal or maximum occupancy limit. Basic rooms have a connected motel-style layout.

House Keeping Cabins

are detached units offering you the best privacy, comfort, and space. There are several different layouts to choose from. Each cabin has one or two bedrooms, a private bath, woodstove fireplace, A/C, propane heat and full kitchen equipped with microwave, refrigerator, coffeemaker, toaster, pots, pans, dishes, and utensils. Some of the units also have screened in porches. Pricing is based on lodging for two (2), however more can be accommodated if needed. There are currently 3Cabin units and 2 Motel Units. The cabins are fully equipped for cooking and the grocery store is located in town just 2 blocks away. Walk to the public Schroon Lake beach and Town Park, tennis courts, basketball courts, and town boat launch. This is a great investment in the popular resort town of Schroon offering a beautiful 9 mile lake offering summer & winter sports.
Two Story 5 bedroom Home-3 baths-Fireplace
New Oak Stairs to 2nd Level-3 bedrooms
Country Kitchen
Knotty Pine Throughout
Rustic Pine Adirondack Interior
New Renai- 3 Units Are Winterized
Picnic & Grill Area
Already Reservations in place for 2015
New Blacktop Circular Drive
New Flooring
$30,000 Recently of New Upgrades
Units 3 & 4 or 1 Ajoining Room
Beds: 2 DB in 1 bedroom, 1 queen sofa-bed in L/R
Bathrooms: 2 with shower stall
Full kitchen
Woodstove Fireplace
A/C
Propane heat
Normally sleeps: 4-6
Rates based on double occupancy
Daily $105 per night - $695 per week
Garage & Rear Entrance-Knotty Pine Interior

Beds: 2 bedrooms each with 1 DB and 1 Twin
Bathrooms: Full Bath with Tub/Shower.
Full kitchen
Screened-in porch
Woodstove fireplace
A/C
Normally sleeps: 4-6
Rates based on double occupancy
Daily $135 per night - $795 per week
Cozy Adirondack Interior
Fully Equipped
Suite 5a & 5b
Rooms #3 & #4
Blacktop Circular Drive
The following amenities are available at Starry Night Cabins.

Please inquire at the front office for:
Canoe basketball hoop and basketballs.

Various games and puzzles barbeque grills.

Tennis racquets and balls campfire pit.

Wood for campfire pit and woodstoves is provided.

Free wireless high-speed internet access.

Hair dryer.
All units have air conditioning, heat, color cable TV, towels and linens.

Cabins & Suites:
All cabins and one bedroom suites also have fully equipped kitchens (pots, pans, silverware, utensils, dishes, microwave, toaster, coffeemaker, etc.) and woodstove fireplace.

Motel Rooms:
The motel rooms also have a coffee maker and refrigerator.

2. How far are you from the beach?
Starry Night Cabins is located on a quiet residential side street in town. It is just a short, 2 block walk to the beach area.

3. Are you located directly on the lake?
No, they are not located directly on the beach. Our street dead ends at the lake just one block away. The beach area is around the corner just 2 short blocks.
35-37 Fowler Avenue
Garage & Rear View of Home
Schroon Lake Beach & Boat Dock Nearby
Beautiful Park & Beach on 9 Mile Schroon Lake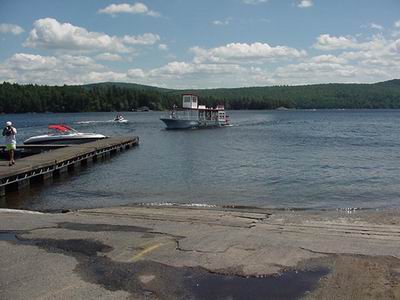 Boat Launch
Tax Map of Property